Sahuarita open houses solicit ideas for town center
Posted on November 4, 2017
This article was written by Green Valley News and was originally featured online.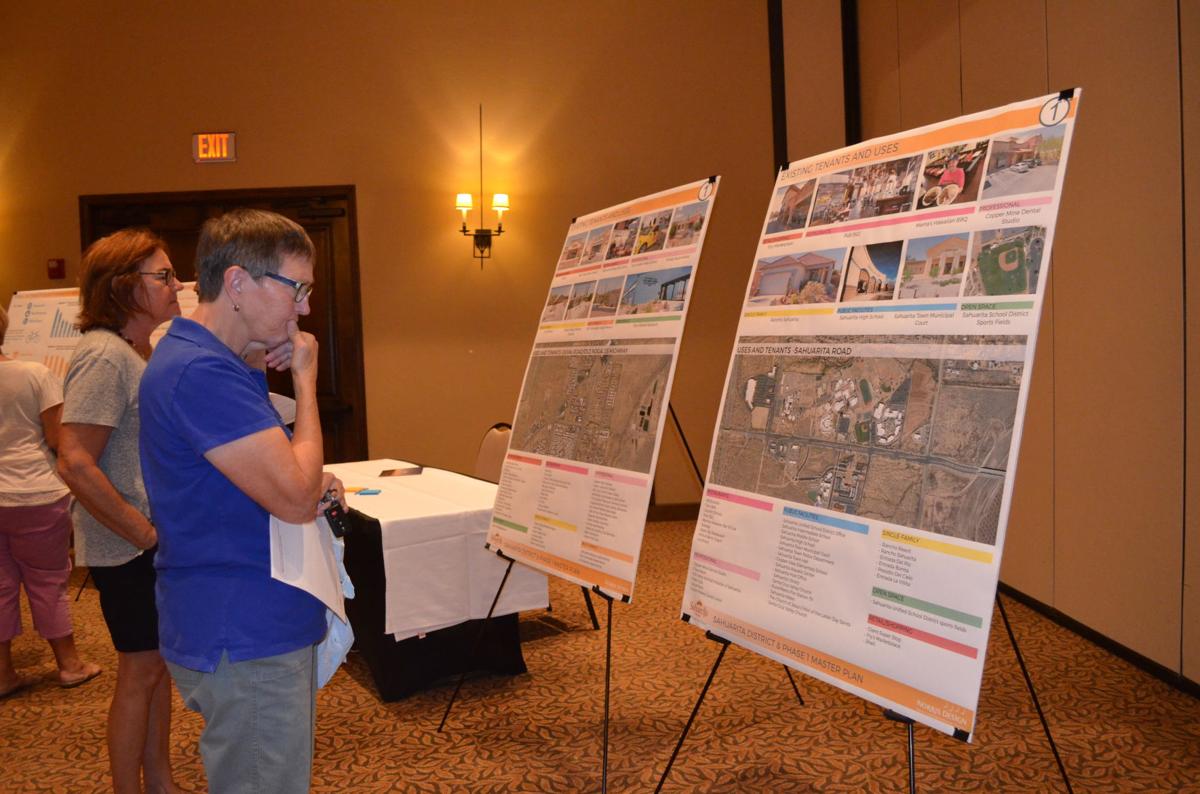 Novalyn Winfield and Nancy Davis, left, both of Sahuarita, check out one of the many displays set up for Thursday afternoon's public open house in Quail Creek.
As a mom with two small boys, Shanna Sellers is tired of driving to Tucson, so she was thrilled the Town of Sahuarita held two open houses Thursday to discuss the design of a new district that eventually could offer plenty for her family to do.
"I'm excited about this and I'm happy to be a part of it," Sellers said. "Even if I have a small voice, I want to be a voice for my town."
The town wants to create a mixed-use district that will provide more housing, commercial lots and civic spaces and include an amphitheater and splash pad. On Thursday, town officials and representatives from Norris Design in Tucson invited residents to take a look at artist renderings of gathering spaces, open spaces and retail areas at meetings at Quail Creek and Town Hall. They were also asked about their preferences when it comes to building designs and materials.
No locations have been selected for the new district and it will likely be years before ground is broken, but Stacey Weaks, a principal with Norris Design, and Council Member Gil Lusk said it is crucial for the community to come together now to make decisions about what they want.
The town and Norris Design have arrived at five guiding principles for the project, Weaks said. The district must be a destinational draw, offer a mix of uses, expand and enhance connectivity, showcase the arts, culture, food and entertainment, and foster community collaboration.
The district would likely be 20 to 30 acres to start, but because the residents of Sahuarita have expressed a big interest in walking and biking, they are envisioning it to only be a quarter mile in length, he said.
When the process gets further along, discussions will begin with potential partners in the private sector about funding, Lusk said.
"I haven't heard anyone talking about big bond money," Lusk assured the afternoon crowd of about 130 at Quail Creek.
As for time, Lusk conceded it's going to be awhile.
"If we could get started in five years I think the town would be highly pleased," he said.
Kathy Lynn and Susan Spooner were thankful the town saw the need for community input.
"You have to plan ahead or it'll be a disaster. I've seen it in other areas," Spooner said. "If they don't plan it'll just be a big giant sprawl of nothing. We need more jobs. We need more retail and more restaurants. We also need places for concerts."
It seems to her that there was little planning in Green Valley so she appreciates the town's efforts, Lynn said.
Having come from the Seattle area, Spooner said she hopes the town will consider building retail stores with residential spaces above, calling it efficient. She does admit, however, that she wonders about potential water shortages in the future.
Ron Hughes and George Ratts, who both live in Quail Creek, said they are more interested in what sorts of restaurants will be drawn to Sahuarita rather than family-oriented offerings.
"If I was younger and bringing up my family, this would be a wonderful community," Hughes said. "I love what's there now and I'd love to see it expanded."
Ratts said he finds the whole process interesting and wonders if Sahuarita and Green Valley will ever consolidate.
Another Quail Creek resident, John O'Rourke, said he'd never seen a town seek input like this before and was appreciative.
"This is great. We're planning because if it's not done, we'll end up with sprawl and we'll end up looking like Dallas," O'Rourke said.
Lusk and Town Manager Kelly Udall were thrilled with the higher-than-expected turnout at the Quail Creek meeting and the reactions of the residents. About 50 turned out for the evening meeting.
"I received no negative feedback. I heard, 'We need to do this' and, 'This is good for our future,' and that was cool," Udall said.
The crowd seemed to have two priorities, he said.
"There was a lot of interest in walkability," Udall said. "Wherever we build it, they want it to be suitable for the older population and they want close parking to the social center."